Meet trees #3 and #4.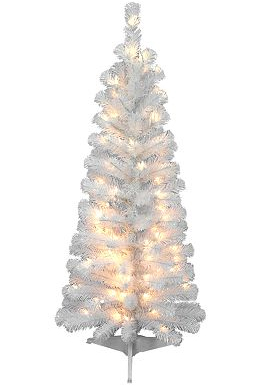 I would say I'm embarrassed about purchasing 2 trees in a day, but that would be a lie. I think it's rather awesome.
If I could have a Christmas tree in every room in the house, I would. It's not so much about the tree itself, as it is with my love of themes. I want each tree to have a certain look, so my logic is simple: new look = new tree.
Tree #1
– This tree will be making the journey down to the man cave, because of its size. This is the traditional tree – so think popcorn, garland and lots of color. This is the tree that supports the no ornament left behind program.
Tree #2
– Oh penguin tree, oh penguin tree, how fabulous you are. I've been debating about what type of tree topper to use, and I found
this
– sure it's paper, but it kind of makes me smile. Opinions?
Tree #3
– The current plan is for this guy to go in the kitchen. What goes on a tree in the kitchen? Treats of course! All those peppermint and cupcake ornaments I've acquired will finally have a home, thanks to this $15 price tag.
Tree #4
– (Well, this isn't the exact tree – same size, but it's a pre-lit). This tree will go in the living room, and will be my white tree – so any white, silver and clear ornaments belong here. I even picked up this
tree skirt
, to stick with my white look.
Other dream trees...
- A dog tree – nothing but doggy-related ornaments
- A snowman tree with a top hat as the topper
- A picture tree